Helen Brown
Trust Manager
Rivers have always been my passion and my playground. I studied geography at Leeds university specialising in river basin management before moving to Scotland to work with Scottish Wildlife Trust. My first job being at the Falls of Clyde. In 2002 I took up the post of Trust Manager with WoLCT and have gradually built up our operations over the years, thanks to a wonderful staff team and volunteers.
Charlotte Neary
Community and Volunteers Officer
Charlotte has a BSc in Geography and a MSc in Environmental Protection and Management from Edinburgh University. She manages the Volunteer team and Conservation work on the river. She can often be seen out on the river with a team wrestling with invasive plant species and litter, rescuing fish and recording Otters. Under her management WOL volunteers have contributed to much need published research into Urban Otters. She is currently working with Napier University to complete a 5-year research project looking at Alternative Treatments for Giant Hogweed and their effects on other plant species.
Ruth Prince
Outdoor Learning Officer
Ruth has an Msc in Outdoor Environmental and Sustainability Education from Moray House School of Education at the University of Edinburgh. Her dissertation was called 'The Best Way to Learn about a River is Going in One'! She is an experienced outdoor teacher with groups from nursery to senior stage high school and special schools, as well as leading training.
Sandie Boyle
Visitor Centre and Admin Officer
I joined the team as Trust Administrator in 2007 after spending 6 months as a volunteer in the visitor centre. Working very much behind the scenes dealing with all the admin that comes with organising our varied community group and school bookings. Further training has enabled me to get more involved in delivering our environmental programs. Highlight of my work is being with our centre volunteers and visitors; regular, new, near or far flung.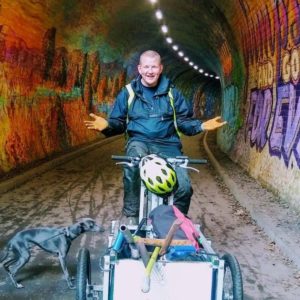 Johnny Wells
Project Officer
Johnny is our boots on the ground worker who you'll meet proudly wearing his high-viz jacket and busy doing something to improve the river or walkway most days. Johnny has a BSc in Social Work and has been involved in leading practical conservation tasks with groups for close to twenty years.
Kat Kane
Visitor Centre Assistant
I work in the Visitor Centre supporting volunteers to run the cafe, doing admin and taking kids out to the river for birthday parties. My background is in volunteer management but I have had a strong love for the environment since I was young and the river is very much my happy place. When I'm not at work I'm most at home with my hands in the dirt growing veg on my allotment or taking in nature from the nearest body of water.